The Buckland & Betchworth Choral Society (formerly Buckland Choral) is a small, friendly choir which meets every Wednesday evening in Betchworth Village Hall from September until June, starting at 7.45pm.
2020 season – Vaughan Williams' A Sea Symphony 
The choir has an exciting and diverse performance calendar under the baton of conductor Jamie Sperling.
2020 promises to be an exciting year for BBCS as we welcome Jamie Sperling as our new Conductor. https://jamiesperling.co.uk/ Jamie will be ably assisted by our concert pianist accompanist, Anna Tetsuya.  We are in very good musical hands indeed.
As ever, our focus over the winter months is our preparation for the 2020 Leith Hill Musical Festival. http://www.lhmf.org.uk/ Their music committee has awarded us, as our main work, one of the brightest gems in the choral repertoire, Vaughan Williams' A Sea Symphony .  It will be a great challenge, but a very rewarding one and a privilege to perform it on stage at the Dorking Halls on 16th April with our fellow choirs of Blue Division under the direction of Jonathan Willcocks.
We are a friendly and informal choir, proud that many of our members belong to the two villages of Buckland and Betchworth, but also that we attract other singers from far and wide.  Come and try us out.  You'll never look back, and you'll be part of a choir that is going places.  Our new term with Jamie starts on 8th January at 7.45pm in Betchworth Village Hall.
Contact our Membership Secretary Katie Bell to learn more about our choir, call our Chairman Pat Frankland on 01737 842028, or log on to www.bbcsinfo.org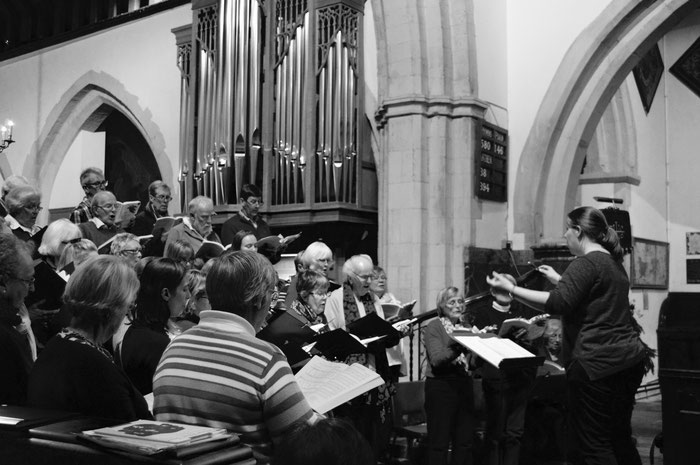 New members are very welcome.
It doesn't matter if you think you are a bit rusty: there is no audition and you don't even have to read music.
If you'd like to hear more about this successful and thriving choir and/or are considering joining, please Click to email for more information or visit bbcsinfo.org.