The Burial Ground is a quiet peaceful place, tucked away behind The Walled Garden.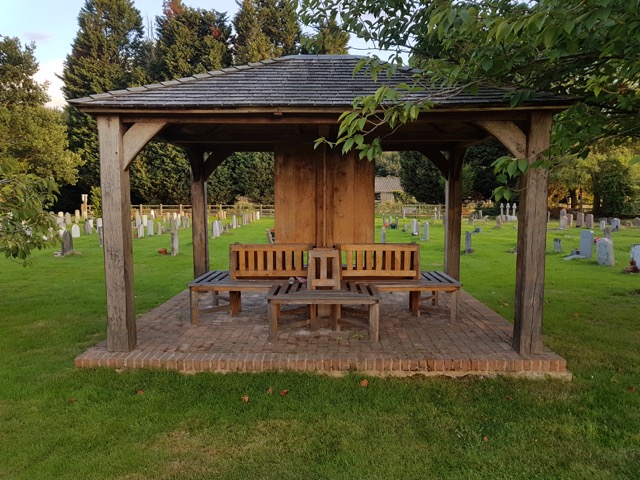 This has recently been extended and re-fenced, and a Jubilee Pavilion erected to augment the seats which provide a tranquil place to sit and reflect, and to take in the views of the North Downs.
Families and their representatives may obtain further information regarding Burials and the Interment of Ashes from the Burial Ground Co-ordinator, Bernard Hawkins on 01737 843153.
BURIAL GROUND – GUIDELINES
Our Burial Ground is in a very beautiful place, situated 200m to the North-West of the Churchyard, with views over the surrounding countryside and towards The Surrey Hills. It is approached along a dedicated pathway running north from the Greensand Way. There are two sections – consecrated and non-consecrated, and a special area for Ashes, to cater for all.
So that this Burial Ground may remain as a quiet oasis and a place of tranquility befitting its rural location and to assist us in keeping it so, the Parish Council asks that the following few guidelines be observed:
Memorials or Headstones.
Should be in a natural light stone or hardwood. Care should be taken to see that stones blend in with the rural setting
Should be in a matt or honed (satin) finish
Should not be larger than 750mm (2′ 6″) in total height or 450mm (1′ 6″) in width
Where required, they may include a base incorporating a container for flowers
Examples of Acceptable Designs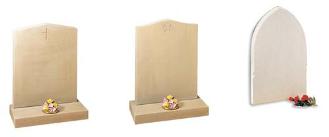 Inscriptions
Should be of plain cut letters which may then be enamelled in black or filled with lead and flush with the surface or raised slightly beyond
Plantings
Should be no more than 300mm in front of the headstone
A maximum of two free-standing pots which can be moved easily, as necessary
Natural plants and flowers only
All details of memorials, inscriptions, carvings, flower vases, etc. MUST BE APPROVED by the PARISH COUNCIL before orders are placed with memorial firms. Please submit full details to the Clerk to the Parish Council, in ample time. Contact details are at the foot of this document.
The following will not be acceptable:
Non-traditional shapes such as hearts or statues
Highly polished surfaces
Red, black or dark grey stone, coloured marble, synthetic stone or plastic
Dark or coloured Granite or Slate
Gold, silver or coloured lettering
Portraits of the deceased
Kerbing memorials and full flat ledgers
Silk or plastic flowers
Examples of unacceptable design

Explanatory notes
Kerbing memorials and full flat ledgers, which were previously permitted, are no longer allowed because of the difficulty in mowing. Designs that currently exist that do not meet the design guidelines as outlined in this document are similarly not acceptable.
Many ideal materials are to be found within the British Isles, including Portland limestone (Commonwealth war memorials are made from this material) and York Stone. However Nabresina limestone which is pale cream in colour and mined in Italy is acceptable. Traditional gravestones tend to be made from such materials and because of their unpolished surface will gradually weather and harmonise with their rural surroundings.
Contact: Burial Ground Co-ordinator
Bernard Hawkins 01737 843153

or write or email to the clerk at the address below for your message to be forwarded.
Clerk to the Council: Marion Hallett
West Cottage, The Stream, Old Road, Buckland, Betchworth RH3 7DS
clerk@betchworth-pc.gov.uk
Tel: 0785 861 7253